With HADocs, the paper chase is over
HADocs simplifies the document management process for your company, allowing you to spend time fulfilling your company's vision instead of handling document-logistics. HADocs puts you in control of incoming and outgoing documents by providing an efficient, yet elegant platform that's been tailored to provide maximum user benefit.
Our goal is to painlessly streamline your documents' routine tasks, so you can use more time on quality and good customer service.
Batch and Article Documentation – Get a handle on EN 10204 Material certificates
HADocs is a highly specialized system for handling both small and large volumes of any type of documentation, with a special focus on EN 10204 certificates. The platform is easily adaptable to any form of batch documentation, from any industry. HADocs even has a specialized module for handling Article documentation, like User manuals, Data Sheets etc.
HADocs' main advantage is its standardized system that allows seamless integration. Existing customers are already seeing increased productivity through successful integrations with systems such as:
| | | |
| --- | --- | --- |
| ● M3 | ● SAP | ● Dynamics AX |
| ● Movex | ● BAS/400 | ● Dynamics NAV |
As soon as your warehouse has reported the goods as packaged for transport, HADocs can automatically find and email the right certificates and article documents to your customers. At the same time they're also made available for your customer through the web-portal. If both you and your supplier or customer have HADocs, Material certificates and other documents are automatically transferred from system to system.
HADocs gives your company a head start on your competitors by providing your customers with easy to handle documentation.
See here for information about this and these features:
Advanced search-capabilities
Assisted verification against standards such as UNS, ASTM, Norsok, and TR2000
Reports from our system in both PDF and Excel-formats
Attaching Article Documentation like Data Sheets or Manuals
HADocs offers a solution that allows users to efficiently store and verify certificate meta data. This enables automated shipping and thus makes manual handling after certificate verification optional.
Project Documentation – One Unified System for All Documentation
HADocs is really many specialized document management systems, designed to integrate. In addition to specialized systems for handling Batch and Article Documentation, it also has a fully featured Internal Document Archive, and a powerful Project Documentation Module.
Large document packages, such as for an offshore company's riser package can be a handful to maintain and manage. HADocs' module for Project Documentation was created to handle these effectively.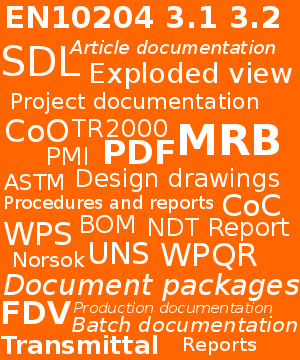 The user interface resembles that of Windows Explorer and includes additions to allow easy control and tracking of documents with multiple revisions.
The module also has a powerful document and document package generator, which allows you to produce high quality documents and packages quickly. With it, you can compile complete Manufacturing Record Books (MRBs) in minutes, instead of days.
See here for more information about this and these features:
Tracking which revisions were sent, where and when
Generate packages like Transmittals and MRBs

Table of contents
Splitter pages
Hierarchical PDF bookmarks

Generate frequently used Documents like PMI reports, CoO and CoC
Handle both company-wide and package only document types in one go
Hierarchical packages
HADocs is Ready to Help Your Company Run Smoothly
Whether you're running a small business or a booming enterprise, HADocs has solutions ready to meet your document management needs. HADocs is offered both as a cloud solution, and as an on-site solution.
HADocs is ready to help your company reach new levels of efficiency and control over all your document management needs.